Approach to the environment
Environmental Policy (ISO14001)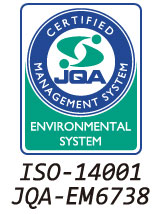 Taiyo Kikai LTD. promotes the work activity which points the harmony social economic activity and global environment.
1. We always acknowledge the environmental effect regarding our activity and products and services and promote the protection of environmental pollution and plan to improve the environmental management system continuously. And, we keep the environmental law and other requirements which we agrees on.
2. We tackle the following points as the important points in the environmental aspect regarding our activity and products, services.
  1) The propulsion of saving energy and saving resources.
  2) The reduction of generating the garbage and the accurate control and process, the propulsion of recycling
  3) The propulsion of manufacturing our products points the environment and safety.
3. We promote the environmental management and set the purpose in order to accomplish this environmental policy.
4. This environmental policy is known to all employees including the affiliate company and we ask the cooperating company to understand this policy. And, this policy are open to people.
November 18, 2013
Taiyo Kikai Ltd.
President Noboru Okakura