Welfare program

We introduce some activities for the employee's leisure practical use.
In the company, all of employees are in a get-together union. The union holds lot of activities independently from the firm. Like every year welcome bowling contest for new entry-levels, travels, graduation parties, that supplying the spaces for employees to socialize. There are softball, golf, photograph, fishing clubs in the unit.

The employees, their families, related companies are allowed to use the corporation owned resort facilities. And every 5 years the company organizes the trip abroad, We have been to Taiwan, Hawaii, Singapore, Hongkong, USA, Shanghai until now.

We plan to go substantial [ of one layer of nearby welfare program ] as much as possible from now on.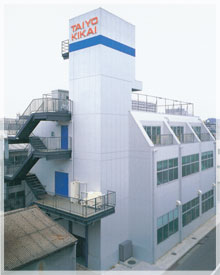 Unmarried dormitory
A dormitory for single employees is next to a corporate headquarter building. A free and homely atmosphere is popular.
Recreation institution
Membership hotel XIV Arima Rikyu

Membership hotel XIV Awaji-Shima

Membership Zao
Company trip
China Shang hai

Australia Sydney

USA West coast
Club activities
Softball club

Basketball club

Golf club

Travel club

Photography club