Roll Away Sheeter
Roll Away Sheeter

High speed sheet cutter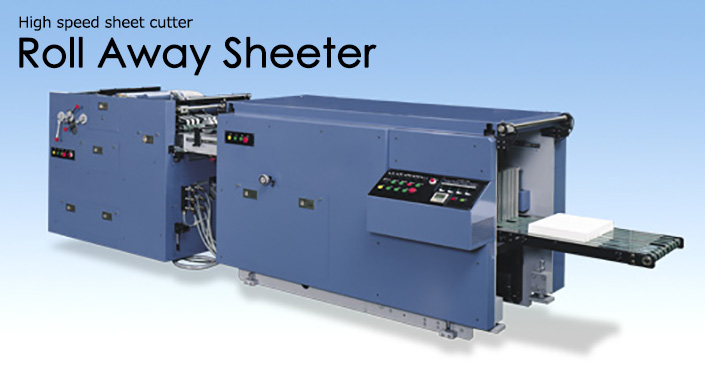 In connection with Business form press, High speed sheet cut and batch discharge are available.
High speed sheeting and batch delivery output is possible by connecting to TOF Business Forms Press. (Drive shaft connection wiht TOF)*Also HOF Business Forms Press can be connected.■Pre-heat system prevents un-cut problem at press run long time.Operator can start immediately with time contorol for pre-heater.■Just A4 size (double) and just A3 size (single) are possible to cut with gap-cut cassette. (If you prefer B size, just B5 (double) and just B4 size (single) are available.)
Specification
Standard Specification
Max. Paper width:18"(457mm)、
      20-1/2"(520mm)
※Follow the width of print press connected
Operation Speed
150〜200 m/min. 
※Depending on the environmental situation(humidity and etc.)and Paper quality
Cut:Chop Cut
Amount of Loading Pile : 250mm
Cut size
A Line(A4,A3)or B Line(B5,B4)
 (it is not possible to have both of A size & B size in one machine)
Other devices
Batch delivery conveyor
Shear Slitter
Static eliminator
Drive shaft connection
Option
Pre-heater device for cutting cylinder

Special De-curler

Air type static eliminator

For other devices, please consult to Taiyo.