CSP-B-03-6P
CSP-B

Form back collator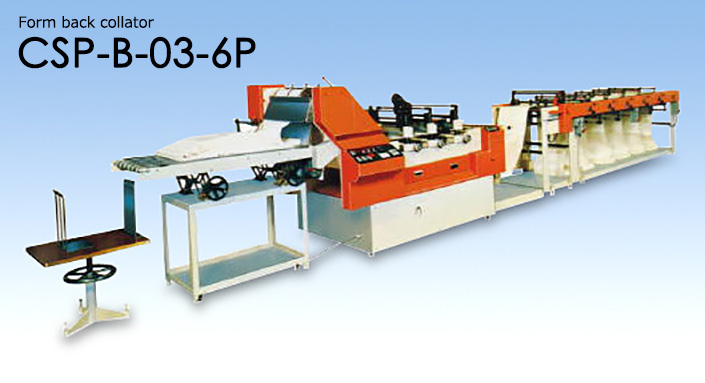 CSP-B is the pack to pack collator for small, short run.
Various combination of file hole punching, crimp-locking and crush numbering on process are available with quick-setup.
Feature
●High performance and accurate feeding with servo motor
●Digital set for repeat size
●■Easy operation for new commer
Specification
Standard Specifications
Max. paper width:20"
Folding depth :3"〜24"(1/60" increment)
Max. Speed:160 stroke/min.(11" increment)
Parts number
7 parts in zigzag folding
Size
Length:4,800mm
Width:1,240mm
Height:1,400mm
Power
File Punch station:4 sets
  (2 holes、6mm dia. 、Distance hole to hole : 80 mm)
Crimp lock station :1 set(left/right)
  (6 holes double crimp lock)
Numbering station :1 set
  (Clash type with ribbon)
Option
Gluing Unit:Max. Paper Width 18" (Electrical control type or Glue wheel type) (Servo motor type or Change gear type)

Envelope gluing unit

Stack type transport for drying

Microwave Dryer

Marginal punch、32 hole、punch hole 5.5mm dia.、9.5mm increment

Center crimp lock (double row)

Cross Perforation Unit

Corner cut unit

Electrical control numbering system

For other devices, please consult to Taiyo.