TLM-400
TLM SERIES

Cassette change model combination printing machine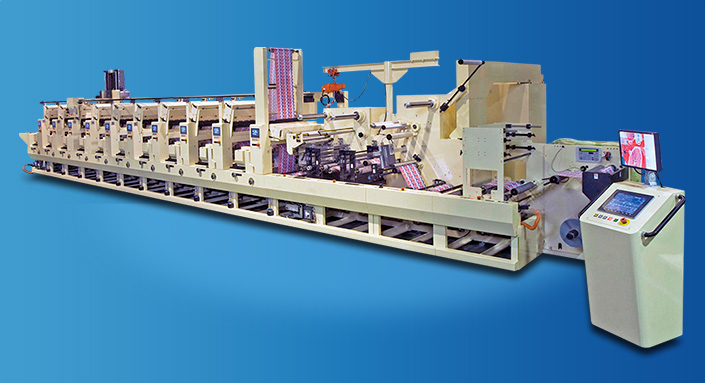 Maximum web width 400mm Combination Rotary Press Many options items are possible to mount on the press.
Specification
General Spec.
Max. web width:250mm
Max. printing width:240mm
Max. unwind diameter:φ800mm
Max. rewind diameter:φ800mm
Max. waste rewind dia.:φ800mm
Print
Print repeat:193.675mm〜457.2mm
     (7-5/8"〜18")
Gear increment:3.175mm(1/8")
Rotary die cut
Width of die cut:236mm
Repeat of die cut:193.675mm〜457.2mm
   (7-5/8"〜18")
Flat bed die cut
Width of die cut:254mm
Depth of die cut:200mm
Repeat of die cut:82.55mm〜206.38mm
     (3-1/4"〜8-1/8")
Gear increment:1.59mm(1/16")
Max. speed
Rotary die cut:120m/min.
Flat bed die cut:80m/min.(8"feeding)
Stocking Table for letterpress print unit
Stocking table for wash up inks and inking with independent motor. Reduce press down time with plate mounting and inking off press, while running another job.
New Flexo Print Cassette
RFID chip is installed in printing cassette and plate cylinder to identify the cylinder size and type of printing cassette. This information is automatically transferred to main operation panel.
Shaft-less Full Servo Drive System
Flexo/Letterpress print cassettes are not necessary to change gears for every repeat. Preset and auto register function are included for servo drive system as standard.
Process Unit

Flat bed die cut unit, rotary die cut unit, sheet cut unit are available.
Movable Units

Movable turn bar device, lamination unit, cold stamp unit and hot stamp unit are available. Cold stamping before or after printing is possible.
Auto Lifter for Unwinder and Rewinder

Heavy unwinder & rewinder rolls easily handled by auto lifter.