TLC-170
TLC SERIES

Center dram rotary label printing machine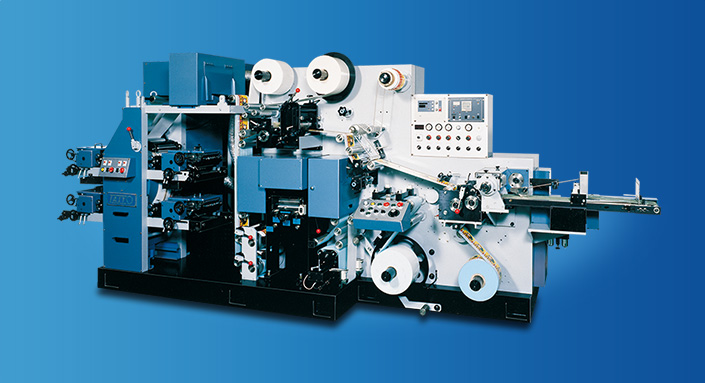 Maximum 5 color printing for 170mm paper width Final unit is selective from letterpress or flexo varnish
This 16-foot compact press is designed with the same efficiency as the Taiyo TLC-250. For progressive printing companies who are ready to upgrade to a rotary label press, this is an excellent quality press for today's market.
Specification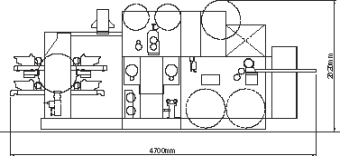 General Spec.
Max. web width:170mm
Max. printing width:160mm
Max. unwind width:φ600mm
Max. rewind diameter:φ600mm
Max. waste rewind dia.:φ600mm
Print
Print repeat:165.1mm〜330.2mm
     (6-1/2"〜13")
Gear increment:3.175mm(1/8")
Rotary die cut
Width of die cut:160mm
Repeat of die cut:165.1mm〜330.2mm(6-1/2"〜13")
Flat bed die cut
Width of die cut:160mm
Depth of die cut:150mm
Repeat of die cut:82.55mm〜165.1mm
     (3-1/4"〜6-1/2")
Gear increment:1.59mm(1/16")
Max. speed
Rotary die cut:80m/min.
Flat bed die cut:60m/min.(6"feeding)
    30m/min.(3"feeding)
Letterpress printing unit

Detachable construction of ink fountain is easy for ink roller washing. ※For TLC-250, only ink duct roller remains on print-ing unit.
Flat Bed Die Cut Unit

Taiyo designed high accurate flat bed die cut system. Its unique construction, cutting blade is positioned in lower and easy for operation.
Rotary Die Cut Unit

■TLC-170:Die cut cylinder can be out from the side. It is safety and easy handling for the operator.
■TLC-250/TLC-350/TLC-400:Maximum 3 rotary die cut units can be equipped. (TLC-170 is 1 unit). Side out of cylinder and crane are available as option items.