WROF-100
WROF/WRF

Stock form rotary printing press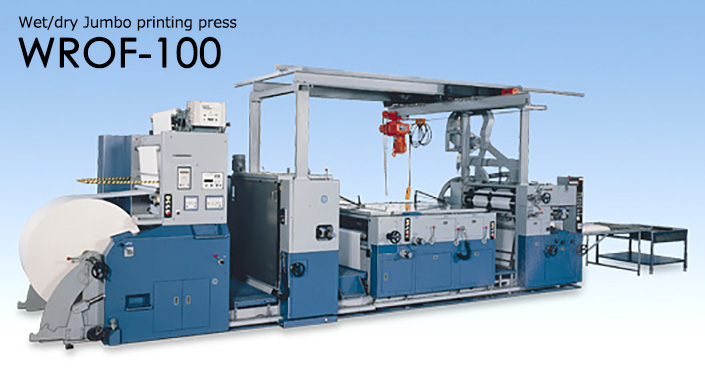 Originally, WRF letterpress printing machine was developed for the stock forms and NIP production, and continuously WROF wet/dry offset printing press for higher productivity in the same purpose. Now, WROF is not only for the stock forms production, but also for high quality multi-streams process printing with 450 m/min. run and 381/2" width.
Specification
WROF Standard Specifications
Max. paper width :38-1/2"
Max printing width :37"
Unwind roll dia.:φ1500 mm (60")
Rewind roll dia. :φ1270 mm (50")
Print
Offset printing circumference :Variable 20"〜25-1/2"
     or 20"〜30"
Process Unit
Cross perf. cyl. :30"〜36"
Folding Unit
Folding depth :8-1/2"〜12"
Sheet Cut Unit
Sheet cut depth : 20"〜30"
Max. Speed
450 m/min. (1500 fpm)
Option
Imprinting/numbering cassette

Rewind unit φ1270 mm

Reinsertion unit

Sheet cut unit (WROF only)

Folder sinking table

Folder double speed conveyor

2nd cross perforation st.

1st and 2nd file hole punching st.

For other devices, please consult to Taiyo.