TOF-A APOLLO
TOF SERIES

Offset form rotary printing press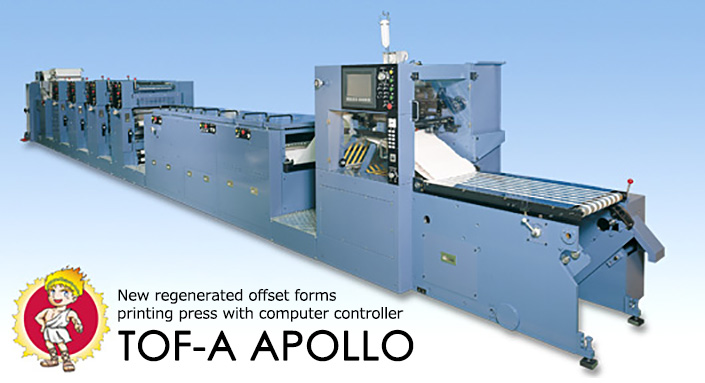 Taiyo has developed a new Regenerated Offset Forms Press Model TOF-A-Series, using the most advanced engineering concepts, -Shaft-less driving system -Accurate computer control -Interchangeability with all existing TOF/TOF-IV modules.
Shaft-less System−Shaft-less Drive System What is sectional drive system ?
A conventional drive system is a combination of one motor for multiple mechanical units, with dynamic transmission system by drive line shaft and gears. In recent years, the shaft-less drive system is rapidly becoming popular in newspaper and commercial printing presses. Its advantages are servomotors, synchronized control intelligent drives, high performance and realization of real time communication by fiber optics. The most common, inverter drive was developed for speed control, and servo drive aimed for high speed registration control with high accuracy. This new inverter drive control has surpassed the mechanical synchronization, and brought in a new era of ultimate advantages.
Dash at the beginning
The feature of this machine is that response to the speed change is good and the machine starts early because machine loss as the twist of driving shaft is nothing.
Reduction of broken papers
In addition to nothing of machine loss, the machine sustains the paper tension when adjusting the speed, and sustains printing register. So, the broken papers are drastically reduced.
Low-noise
The gear and timing belt as the source of noise consequently lessen, so the unpleasant high noise are removed.
Simple maintenance
The most of actuator part which need the lubricating oil. And, the trouble by running out of oil is reduced.
Compatibility
The offset exchange cylinder, file punch cassette, lateral perforation cylinder and so on of TOF type form rotary printing press hold the compatibility.
Extensibility
Abundant various devices and functions which TOF series have developed are used as is.
Specification

TOF-A Specification
Max. web width :460 mm (18")
     [520 mm (20-1/2")]
Max. printing width :445 mm (17-1/2")
      [510 mm (20")]
Max. unwind web dia.:φ1,270mm
Printing unit
Offset printing:10"-18" (B type)
        14"-25" (C type, D type)
        20"-30"(E type)
Letterpress : 10"-24" (B type), 10"-30" (D type)
Hot spot carbon printing : 10"-18" (B type)
        14"-25" (E type)
Process unit
File hole punch : 14"-24"
Line hole punch : 1/2"pitch
Cross perforation cylinder : 10"-24"
Fold unit
Folder width : 18"[20-1/2"]
Folder range : 6" - 18"
Rewind unit
Max. rewind dia. : 1000 mm [1270 mm]
Sheet cut unit
Cutting size : 4" - 17"
'''Max. printing speed
Fold : 260 m/min.
Rewind : 300 m/min.
Sheet cut : 150 m/min.
※Remark : [ ] is Option
Initial Set Up Function
◆ Simple input for repeat length, line punch width, slitter width, folder spiral width and/or fold timing are completed. ※Lateral register input, as option.
※Initial set up for circumferential register control is for rough adjust-ment, and they need fine manual adjustment.
◆ Data can be stored for fastest repeat job set up.
◆Changeable response by graphic visual set up for different web paths.
◆With Ethernet cable connecting to other computers, job data communication is possible. Job data from OEM computers is gathered and controlled by one PC, and auto backup is possible.
Throw Length Control
◆Enables accurate paper tension infeed from thin paper to thick paper for accurate throw length control. Tension control for infeed roll and nipping roll in process unit and folder are independent for more accurate registration.
Pre-Set Device
◆Register control for each unit can be performed during press run and in press stop.
Plate Change Assist Function
◆Plate Change Assist Function
◆By input of original unwind roll dia., the remaining dia. can be displayed during press run. Setting the end of roll diameter, the press automatically goes into slow run and stop.
Unwind Dia. Real-Time Display and Auto Stop by Optional Dia.
◆By input of original unwind roll dia., the remaining dia. can be displayed during press run. Setting the end of roll diameter, the press automatically goes into slow run and stop.
Ink Washing Device
◆Automatic spray of ink washing liquid, and automatic On/Off of ink doctor. Two different ink washing liquids (UV ink and conventional ink) can be separately used and spray volume and frequency can be manually controlled.
Self Examination Function & Warning Device
◆Continuous diagnostic troubleshooting is displayed as the incident occurs. Troubleshooting and maintenance time is dramatically reduced.